INDIAN ARMED FORCES
Indian armed force head quarters is in new Delhi, which is the capital of India.
Indian Armed forces was founded in 1st April 1895 exactly 124 years ago.
It consists of three professional uniformed services: the Indian Army, Indian Navy, and Indian Air Force and additionally.
It is supported by the Indian Coast Guard and paramilitary organizations (Assam Rifles, and Special Frontier Force) and various inter-service commands and institutions such as the Strategic Forces Command, the Andaman and Nicobar Command and the Integrated Defense Staff.
Our president of India is supreme commander of the Indian armed forces.
The Indian Armed Forces are under the management of the Ministry of Defense (MoD) of the Government of India. With strength of over 1.4 million active personnel.
It is the world's 2nd largest military force and has the world's largest volunteer army.
INDIAN ARMY :
It is the branch of Indian armed forces, specialized in operating on land.
The primary mission of the Indian Army is to ensure national security and national unity, defending the nation from external aggression and internal threats, and maintaining peace and security within its borders.
On 15th January 1949, Lieutenant General K.M. Cariappa took over as the first Commander-in-Chief of the Indian Army, and this day is celebrated as the Army Day in India.
The Ministry of Defence (MoD) is the ministry charged with the responsibilities of countering insurgency and ensuring external security of India. General Bipin Rawat is the Chief of the Army Staff (COAS).
The Indian Army is divided administratively into seven tactical commands, each under the control of different Lieutenant Generals.
They are:
Central Command - Lt General Abhay Krishna.
Eastern Command - Lt General Manoj Mukund Naravane.
Northern Command - Lt General Ranbir Singh
Southern Command- Lt General Satinder Kumar Saini
South Western command- Lt General Cherish Mathson
Western Command - Lt General Surinder Singh
Army Training Command - Lt General Pattacheruvanda C. Thimayya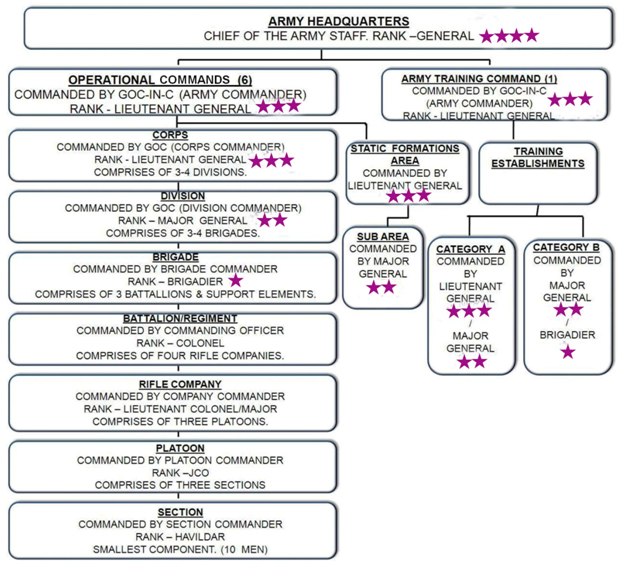 MAJOR WARS IN INDIA:
| S.No | Name of the war | Period | Location | Chief-Commander | Lt-General | Soldiers | Winner | Loser |
| --- | --- | --- | --- | --- | --- | --- | --- | --- |
| 01 | First Kashmir War | 22 October 1947 – 5 January 1949 | Kashmir | Jawaharlal Nehru | K.M.Cariappa | 1,104 killed | India | Pakistan |
| 02 | Hyderabad War (Operation Polo) | 13–18 September 1948 | Hyderabad | Sardar Patel, Roy Bucher | Joyanto Nath Chaudhuri | 32 killed | India | Hyderbad State |
| 03 | Portuguese War (Operation Vijay) | 18–19 December 1961 | Goa | Rajendra Prasad | Maj.Gen. K. P. Candeth | 22killed | India | Portugal |
| 04 | sino indian war | 20 Oct 1962 – 21 Nov 1962 | Aksai Chin | Sarvepalli Radhakrishnan | General Pran Nath Thapar | 1,383–3,250 killed 548–1,047 wounded 1,696 missing 3,968 captured | China | India |
| 05 | indo pakistan war | August – 23 September 1965 | LOC | S. Radhakrishnan | Gen J.N. Chaudhuri | 5259 men kiled | Inconclusive | Inconclusive |
| 06 | indo pakistan war | 3–16 December 1971 | LOC,Bay of Bengal | V. V. Giri | Gen Sam Manekshaw | 3,843 killed | Decisive Indian victory | Decisive Indian victory |
| 07 | Kargil war | 3 May–26 July 1999 | Kargil dist | K. R. Narayanan | Gen Ved Prakash Malik | 527killed | Decisive Indian victory | Decisive Indian victory |