South America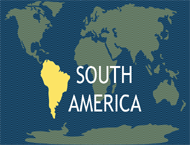 South America is the fourth largest continent in terms of area. It is also the fifth most populous continent after Asia, Africa, Europe and North America. South America is bordered on the west by the Pacific Ocean and to the north and east by the Atlantic Ocean. South America includes 12 independent countries – Argentina, Brazil, Chile, Columbia, Ecuador, Guyana, Paraguay, Peru, Suriname, Uruguay, Venezuela and French Guiana. South America is home to the world's highest waterfall, the largest river by volume, the longest mountain range, the world's largest rainforest, the driest place on earth and many other geographical wonders.
The total world's area occupied by the continent is 17,838,000 sq kms. The total population of this continent is 365366600. Different parts of South America experience varied types of climate such as the sub-tropical in the north, Mediterranean in the south and tropical climate by the Amazon basin.
South America is a continent which is diverse in terms of geography and biodiversity. The world's highest uninterrupted waterfall, angel falls is situated in Venezuela in South America. The Amazon River, which is the largest river in the world in terms of volume, is also in this continent. The Atacama Desert, which is the driest non polar place on earth, and the Amazon forest which is the largest rainforest on earth, is situated in this continent. It is also home to many interesting and unique species of animals such as anaconda, piranha, jaguar etc.