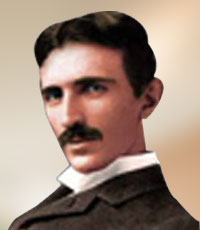 Elliott Cresson Medal (1894), John Scott Legacy Medal and Premium (1934), IEEE Edison Medal(1916), Order of the Yugoslav Crown.
Nikola Tesla pronounced 10 July 1856 – 7 January 1943 was a Serbian-American inventor, electrical engineer, mechanical engineer, and futurist. who is best known for his contributions to the design of the modern alternating current (AC) electricity supply system.
He designed the principal exchanging current (AC) engine and created AC age and transmission innovation. Nikola Tesla was born in 1856 in Smiljan, Croatia, then part of the Austro-Hungarian Empire.
His father was a priest in the Serbian Orthodox church and his mother managed the family's farm. In 1863 Tesla's brother Daniel was killed in a riding accident. The shock of the loss unsettled the 7-year-old Tesla, who reported seeing visions—the first signs of his lifelong mental illnesses. Tesla arrived in New York in 1884 and was hired as an engineer at Thomas Edison's Manhattan headquarters. He worked there for a year, impressing Edison with his diligence and ingenuity.