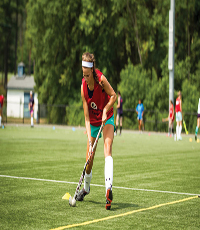 Field hockey is a widely played team sport of the hockey family. The game can be played on grass, watered turf, artificial turf or synthetic field, as well as an indoor boarded surface. Each team plays with ten field players and a goalkeeper. Players commonly use sticks made out of wood, carbon fibre, fibre glass or a combination of carbon fibre and fibre glass in different quantities to hit a round, hard, plastic hockey ball.
The length of the hockey stick is based on the player's individual height. The top of the stick usually comes to the players hip, and taller players typically have taller sticks. The sticks have a round side and a flat side only the flat face of the stick is allowed to be used, if the other side is used it results in a foul. With a total score of 13 points, field hockey, or just hockey, finds itself in joint 11th place. Hockey has for long been among the most significant sports in Asia, and has also gained wide popularity in Europe in recent times.
Tradtionally considered the national sport in India, it is top 5 in interest there driving its top 20 position globally. Estimated to have more than 3 million worldwide playing field hockey. It maintains some interest in Western Europe, Australia and Japan. This fast paced sport is played by men and women in over 100 countries on 5 continents around the world. A firm favorite at the Olympic Games, field hockey is a highly technical sport, played by 10 outfield players plus a goalkeeper and its rules differ from the Ice hockey variation of the sport.