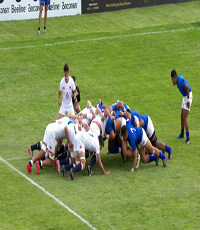 Rugby union, widely known simply as rugby, is a full contact team sport that originated in England in the first half of the 19th century. One of the two codes of rugby football, it is based on running with the ball in hand. In its most common form, a game is played between two teams of 15 players using an oval-shaped ball on a rectangular field called a pitch. The field has H-shaped goalposts at both ends.
Rugby union is a popular sport around the world, played by male and female players of all ages. In 2014, there were more than 6 million people playing worldwide, of whom 2.36 million were registered players. World Rugby, previously called the International Rugby Football Board (IRFB) and the International Rugby Board (IRB), has been the governing body for rugby union since 1886, and currently has 101 countries as full members and 18 associate members.
In 1845, the first football laws were written by pupils at Rugby School, other significant events in the early development of rugby include the decision by Blackheath F.C. to leave the Football Association in 1863 and, in 1895, the acrimonious split between the then amateur rugby union and the professional rugby league. Historically rugby union was an amateur sport, but in 1995 formal restrictions on payments to players were removed, making the game openly professional at the highest level for the first time.
A major sport for Australia, South Africa, France and the UK, with some interest in the rest of the world. The world cup is a huge global event, with attendance figures of 2 million+ across all games in recent versions, reportedly only surpassed only in scale by Olympics, football world cup and tour de France.