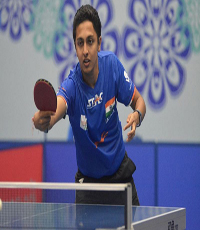 Table tennis, also known as ping-pong and whiff-whaff, is a sport in which two or four players hit a lightweight ball, also known as the ping-pong ball, back and forth across a table using small rackets. The game takes place on a hard table divided by a net. Except for the initial serve, the rules are generally as follows. Players must allow a ball played toward them to bounce one time on their side of the table, and must return it so that it bounces on the opposite side at least once.
Table tennis is governed by the worldwide organization International Table tennis federation (ITTF), founded in 1926. ITTF currently includes 226 member associations. The table tennis official rules are specified in the ITTF handbook. Table tennis has been an Olympic sport since 1988, with several event categories. From 1988 until 2004, these were men's singles, women's singles, men's doubles and women's doubles. Since 2008, a team event has been played instead of the doubles.
A popular sport in China in particular, but maintains interest in Asia generally and in parts of Europe. One of the world's biggest participant sports, being played casually around the world. This indoor sport has become more and more popular over the years, with integration in schools, social clubs and sport centres across the world. Topend Sports ranking also estimated 300 million people worldwide participate in table tennis. Table tennis is certainly a sport for all and a sport for life anyone can get involved at any time and continue play throughout. It is particularly good for developing alertness and co-ordination.