HTML
Hypertext Markup Language
Chess Practical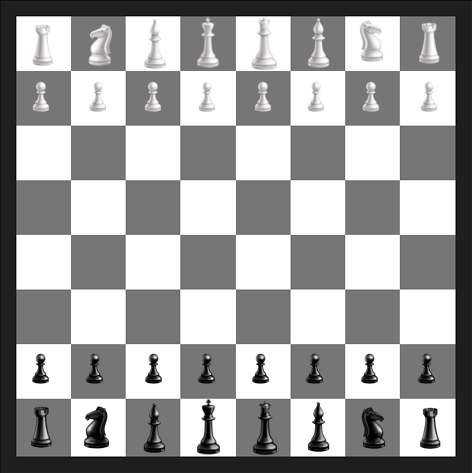 To create a Chessboard with Chess pieces we first need to know their unicode or HTML equivalent codes.
There are around 12 Symbols that are needed to create a Chessboard in HTML.
These symbols are available in Unicode range U+2654 to U+265F.
Note : To display these Symbols you need to have the font that supports this Unicode Range.
Source Code HTML + CSS
HTML Code of the above Diagram
Click for download images Images Zip
<html>

<head>

<title>

Chessboard using Pure HTML

</title>

</head>

<body>

<table

width

="

640px

"

height

="

640px

"

margin

="

20px

"

border

="

15px solid #333

"

align

="

center

"

>

<tr>

<td

width

="

73.7px

"

height

="

73.7px

"

bgcolor

="

#fff

"

font

="

50px

"

align

="

center

"

display

="

table cell

"

valign

="middle"

>

<img src="

img/white1.png"

>

</td>

<td

width

="

73.7px

"

height

="

73.7px

"

bgcolor

="

#999

"

font

="

50px

"

align

="

center

"

display

="

table cell

"

valign

="middle"><img src="

img/white2.png"

>

</td>

<td

width

="

73.7px

"

height

="

73.7px

"

bgcolor

="

#fff

"

font

="

50px

"

align

="

center

"

display

="

table cell

"

valign

="middle"><img src="

img/white3.png"

>

</td>

<td

width

="

73.7px

"

height

="

73.7px

"

bgcolor

="

#999

"

font

="

50px

"

align

="

center

"

display

="

table cell

"

valign

="middle"><img src="

img/white4.png"

>

</td>

<td

width

="

73.7px

"

height

="

73.7px

"

bgcolor

="

#fff

"

font

="

50px

"

align

="

center

"

display

="

table cell

"

valign

="middle"><img src="

img/white5.png"

>

</td>

<td

width

="

73.7px

"

height

="

73.7px

"

bgcolor

="

#999

"

font

="

50px

"

align

="

center

"

display

="

table cell

"

valign

="middle"><img src="

img/white6.png"

>

</td>

<td

width

="

73.7px

"

height

="

73.7px

"

bgcolor

="

#fff

"

font

="

50px

"

align

="

center

"

display

="

table cell

"

valign

="middle"><img src="

img/white7.png"

>

</td>

<td

width

="

73.7px

"

height

="

73.7px

"

bgcolor

="

#999

"

font

="

50px

"

align

="

center

"

display

="

table cell

"

valign

="middle"><img src="

img/white8.png"

>

</td>

</tr>

<tr>

<td

width

="

73.7px

"

height

="

73.7px

"

bgcolor

="

#999

"

font

="

50px

"

align

="

center

"

display

="

table cell

"

valign

="middle"><img src="

img/white9.png"

>

</td>

<td

width

="

73.7px

"

height

="

73.7px

"

bgcolor

="

#fff

"

font

="

50px

"

align

="

center

"

display

="

table cell

"

valign

="middle"><img src="

img/white9.png"

>

</td>

<td

width

="

73.7px

"

height

="

73.7px

"

bgcolor

="

#999

"

font

="

50px

"

align

="

center

"

display

="

table cell

"

valign

="middle"><img src="

img/white9.png"

>

</td>

<td

width

="

73.7px

"

height

="

73.7px

"

bgcolor

="

#fff

"

font

="

50px

"

align

="

center

"

display

="

table cell

"

valign

="middle"><img src="

img/white9.png"

>

</td>

<td

width

="

73.7px

"

height

="

73.7px

"

bgcolor

="

#999

"

font

="

50px

"

align

="

center

"

display

="

table cell

"

valign

="middle"><img src="

img/white9.png"

>

</td>

<td

width

="

73.7px

"

height

="

73.7px

"

bgcolor

="

#fff

"

font

="

50px

"

align

="

center

"

display

="

table cell

"

valign

="middle"><img src="

img/white9.png"

>

</td>

<td

width

="

73.7px

"

height

="

73.7px

"

bgcolor

="

#999

"

font

="

50px

"

align

="

center

"

display

="

table cell

"

valign

="middle"
><img src="

img/white9.png"

>

</td>

<td

width

="

73.7px

"

height

="

73.7px

"

bgcolor

="

#fff

"

font

="

50px

"

align

="

center

"

display

="

table cell

"

valign

="middle"><img src="

img/white9.png"

>

</td>

</tr>

<tr>

<td

width

="

73.7px

"

height

="

73.7px

"

bgcolor

="

#fff

"

font

="

50px

"

align

="

center

"

display

="

table cell

"

valign

="middle"

>

&nbsp

</td>

<td

width

="

73.7px

"

height

="

73.7px

"

bgcolor

="

#999

"

font

="

50px

"

align

="

center

"

display

="

table cell

"

valign

="middle"

>

&nbsp

</td>

<td

width

="

73.7px

"

height

="

73.7px

"

bgcolor

="

#fff

"

font

="

50px

"

align

="

center

"

display

="

table cell

"

valign

="middle"

>

&nbsp

</td>

<td

width

="

73.7px

"

height

="

73.7px

"

bgcolor

="

#999

"

font

="

50px

"

align

="

center

"

display

="

table cell

"

valign

="middle"

>

&nbsp

</td>

<td

width

="

73.7px

"

height

="

73.7px

"

bgcolor

="

#fff

"

font

="

50px

"

align

="

center

"

display

="

table cell

"

valign

="middle"

>

&nbsp

</td>

<td

width

="

73.7px

"

height

="

73.7px

"

bgcolor

="

#999

"

font

="

50px

"

align

="

center

"

display

="

table cell

"

valign

="middle"

>

&nbsp

</td>

<td

width

="

73.7px

"

height

="

73.7px

"

bgcolor

="

#fff

"

font

="

50px

"

align

="

center

"

display

="

table cell

"

valign

="middle"

>

&nbsp

</td>

<td

width

="

73.7px

"

height

="

73.7px

"

bgcolor

="

#999

"

font

="

50px

"

align

="

center

"

display

="

table cell

"

valign

="middle"

>

&nbsp

</td>

</tr>

<tr>

<td

width

="

73.7px

"

height

="

73.7px

"

bgcolor

="

#999

"

font

="

50px

"

align

="

center

"

display

="

table cell

"

valign

="middle"

>

&nbsp

</td>

<td

width

="

73.7px

"

height

="

73.7px

"

bgcolor

="

#fff

"

font

="

50px

"

align

="

center

"

display

="

table cell

"

valign

="middle"

>

&nbsp

</td>

<td

width

="

73.7px

"

height

="

73.7px

"

bgcolor

="

#999

"

font

="

50px

"

align

="

center

"

display

="

table cell

"

valign

="middle"

>

&nbsp

</td>

<td

width

="

73.7px

"

height

="

73.7px

"

bgcolor

="

#fff

"

font

="

50px

"

align

="

center

"

display

="

table cell

"

valign

="middle"

>

&nbsp

</td>

<td

width

="

73.7px

"

height

="

73.7px

"

bgcolor

="

#999

"

font

="

50px

"

align

="

center

"

display

="

table cell

"

valign

="middle"

>

&nbsp

</td>

<td

width

="

73.7px

"

height

="

73.7px

"

bgcolor

="

#fff

"

font

="

50px

"

align

="

center

"

display

="

table cell

"

valign

="middle"

>

&nbsp

</td>

<td

width

="

73.7px

"

height

="

73.7px

"

bgcolor

="

#999

"

font

="

50px

"

align

="

center

"

display

="

table cell

"

valign

="middle"

>

&nbsp

</td>

<td

width

="

73.7px

"

height

="

73.7px

"

bgcolor

="

#fff

"

font

="

50px

"

align

="

center

"

display

="

table cell

"

valign

="middle"

>

&nbsp

</td>

</tr>

<tr>

<td

width

="

73.7px

"

height

="

73.7px

"

bgcolor

="

#fff

"

font

="

50px

"

align

="

center

"

display

="

table cell

"

valign

="middle"

>

&nbsp

</td>

<td

width

="

73.7px

"

height

="

73.7px

"

bgcolor

="

#999

"

font

="

50px

"

align

="

center

"

display

="

table cell

"

valign

="middle"

>

&nbsp

</td>

<td

width

="

73.7px

"

height

="

73.7px

"

bgcolor

="

#fff

"

font

="

50px

"

align

="

center

"

display

="

table cell

"

valign

="middle"

>

&nbsp

</td>

<td

width

="

73.7px

"

height

="

73.7px

"

bgcolor

="

#999

"

font

="

50px

"

align

="

center

"

display

="

table cell

"

valign

="middle"

>

&nbsp

</td>

<td

width

="

73.7px

"

height

="

73.7px

"

bgcolor

="

#fff

"

font

="

50px

"

align

="

center

"

display

="

table cell

"

valign

="middle"

>

&nbsp

</td>

<td

width

="

73.7px

"

height

="

73.7px

"

bgcolor

="

#999

"

font

="

50px

"

align

="

center

"

display

="

table cell

"

valign

="middle"

>

&nbsp

</td>

<td

width

="

73.7px

"

height

="

73.7px

"

bgcolor

="

#fff

"

font

="

50px

"

align

="

center

"

display

="

table cell

"

valign

="middle"

>

&nbsp

</td>

<td

width

="

73.7px

"

height

="

73.7px

"

bgcolor

="

#999

"

font

="

50px

"

align

="

center

"

display

="

table cell

"

valign

="middle"

>

&nbsp

</td>

</tr>

<tr>

<td

width

="

73.7px

"

height

="

73.7px

"

bgcolor

="

#999

"

font

="

50px

"

align

="

center

"

display

="

table cell

"

valign

="middle"

>

&nbsp

</td>

<td

width

="

73.7px

"

height

="

73.7px

"

bgcolor

="

#fff

"

font

="

50px

"

align

="

center

"

display

="

table cell

"

valign

="middle"

>

&nbsp

</td>

<td

width

="

73.7px

"

height

="

73.7px

"

bgcolor

="

#999

"

font

="

50px

"

align

="

center

"

display

="

table cell

"

valign

="middle"

>

&nbsp

</td>

<td

width

="

73.7px

"

height

="

73.7px

"

bgcolor

="

#fff

"

font

="

50px

"

align

="

center

"

display

="

table cell

"

valign

="middle"

>

&nbsp

</td>

<td

width

="

73.7px

"

height

="

73.7px

"

bgcolor

="

#999

"

font

="

50px

"

align

="

center

"

display

="

table cell

"

valign

="middle"

>

&nbsp

</td>

<td

width

="

73.7px

"

height

="

73.7px

"

bgcolor

="

#fff

"

font

="

50px

"

align

="

center

"

display

="

table cell

"

valign

="middle"

>

&nbsp

</td>

<td

width

="

73.7px

"

height

="

73.7px

"

bgcolor

="

#999

"

font

="

50px

"

align

="

center

"

display

="

table cell

"

valign

="middle"

>

&nbsp

</td>

<td

width

="

73.7px

"

height

="

73.7px

"

bgcolor

="

#fff

"

font

="

50px

"

align

="

center

"

display

="

table cell

"

valign

="middle"

>

&nbsp

</td>

</tr>

<tr>

<td

width

="

73.7px

"

height

="

73.7px

"

bgcolor

="

#fff

"

font

="

50px

"

align

="

center

"

display

="

table cell

"

valign

="middle"

>

<img src="

img/black9.png"

>

</td>

<td

width

="

73.7px

"

height

="

73.7px

"

bgcolor

="

#999

"

font

="

50px

"

align

="

center

"

display

="

table cell

"

valign

="middle"><img src="

img/black9.png"

>

</td>

<td

width

="

73.7px

"

height

="

73.7px

"

bgcolor

="

#fff

"

font

="

50px

"

align

="

center

"

display

="

table cell

"

valign

="middle"><img src="

img/black9.png"

>

</td>

<td

width

="

73.7px

"

height

="

73.7px

"

bgcolor

="

#999

"

font

="

50px

"

align

="

center

"

display

="

table cell

"

valign

="middle"><img src="

img/black9.png"

>

</td>

<td

width

="

73.7px

"

height

="

73.7px

"

bgcolor

="

#fff

"

font

="

50px

"

align

="

center

"

display

="

table cell

"

valign

="middle"><img src="

img/black9.png"

>

</td>

<td

width

="

73.7px

"

height

="

73.7px

"

bgcolor

="

#999

"

font

="

50px

"

align

="

center

"

display

="

table cell

"

valign

="middle"><img src="

img/black9.png"

>

</td>

<td

width

="

73.7px

"

height

="

73.7px

"

bgcolor

="

#fff

"

font

="

50px

"

align

="

center

"

display

="

table cell

"

valign

="middle"><img src="

img/black9.png"

>

</td>

<td

width

="

73.7px

"

height

="

73.7px

"

bgcolor

="

#999

"

font

="

50px

"

align

="

center

"

display

="

table cell

"

valign

="middle"><img src="

img/black9.png"

>

</td>

</tr>

<tr>

<td

width

="

73.7px

"

height

="

73.7px

"

bgcolor

="

#999

"

font

="

50px

"

align

="

center

"

display

="

table cell

"

valign

="middle"><img src="

img/black1.png"

>

</td>

<td

width

="

73.7px

"

height

="

73.7px

"

bgcolor

="

#fff

"

font

="

50px

"

align

="

center

"

display

="

table cell

"

valign

="middle"><img src="

img/black2.png"

>

</td>

<td

width

="

73.7px

"

height

="

73.7px

"

bgcolor

="

#999

"

font

="

50px

"

align

="

center

"

display

="

table cell

"

valign

="middle"><img src="

img/black3.png"

>

</td>

<td

width

="

73.7px

"

height

="

73.7px

"

bgcolor

="

#fff

"

font

="

50px

"

align

="

center

"

display

="

table cell

"

valign

="middle"><img src="

img/black4.png"

>

</td>

<td

width

="

73.7px

"

height

="

73.7px

"

bgcolor

="

#999

"

font

="

50px

"

align

="

center

"

display

="

table cell

"

valign

="middle"><img src="

img/black5.png"

>

</td>

<td

width

="

73.7px

"

height

="

73.7px

"

bgcolor

="

#fff

"

font

="

50px

"

align

="

center

"

display

="

table cell

"

valign

="middle"><img src="

img/black6.png"

>

</td>

<td

width

="

73.7px

"

height

="

73.7px

"

bgcolor

="

#fff

"

font

="

50px

"

align

="

center

"

display

="

table cell

"

valign

="middle"><img src="

img/black7.png"

>

</td>

<td

width

="

73.7px

"

height

="

73.7px

"

bgcolor

="

#999

"

font

="

50px

"

align

="

center

"

display

="

table cell

"

valign

="middle"><img src="

img/black8.png"

>

</td>

</tr>

</table>

</body>

</html>