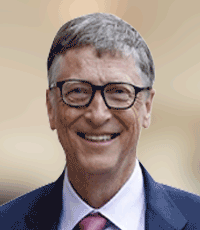 Presidential Medal of Freedom (2016), Padma Bhushan (2015), National Medal of Technology and Innovation (1992), Lasker-Bloomberg Public Service Award (2013), Silver Buffalo Award (2010), Bower Award for Business Leadership (2010), Bambi - Millennium Award (2013).
Bill Gates (born October 28, 1955) is an American business magnate, software developer, investor, and philanthropist. He is best known as the co-founder of Microsoft Corporation. During his career at Microsoft, Gates held the positions of chairman, chief executive officer (CEO), president and chief software architect, while also being the largest individual shareholder until May 2014. He is one of the best-known entrepreneurs and pioneers of the microcomputer revolution of the 1970s and 1980s.
Gates read the January 1975 issue of Popular Electronics which demonstrated the Altair 8800, and he contacted Micro Instrumentation and Telemetry Systems (MITS) to inform them that he and others were working on a BASIC interpreter for the platform.
Microsoft launched its first retail version of Microsoft Windows on November 20, 1985. In August of the following year, the company struck a deal with IBM to develop a separate operating system called OS/2. Although the two companies successfully developed the first version of the new system, the partnership deteriorated due to mounting creative differences.
On August 25, 2018, Gates distributed $600,000 through his foundation via UNICEF which is helping flood affected victims in Kerala, India.