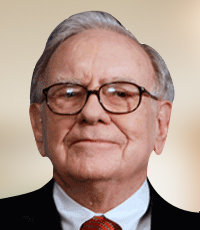 Presidential Medal of Freedom
Warren Edward Buffett is an American investor, business tycoon, and philanthropist, who is the chairman and CEO of Berkshire Hathaway. He is considered one of the most successful investors in the world and has a net worth of US$71.8 billion as of July 2020, making him the fourth-wealthiest person in the world.
Buffett was born in Omaha, Nebraska. He developed an interest in business and investing in his youth, eventually entering the Wharton School of the University of Pennsylvania in 1947 before transferring and graduating from the University of Nebraska at the age of 19.
Buffett became a billionaire when Berkshire Hathaway began selling class A shares on May 29, 1990, with the market closing at $7,175 a share. In 1998 he acquired General Re (Gen Re) as a subsidiary in a deal that presented difficulties—according to the Rational Walk investment website, "underwriting standards proved to be inadequate," while a "problematic derivatives book" was resolved after numerous years and a significant loss. Gen Re later provided reinsurance after Buffett became involved with Maurice R. Greenberg at AIG in 2002.