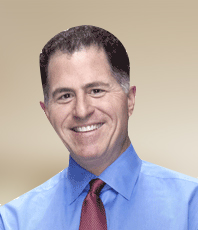 Michael Dell, (born February 23, 1965, Houston, Texas, U.S.), American entrepreneur, businessman, and author, known as the founder and CEO of Dell Inc., one of the world's leading sellers of personal computers (PCs). In 2016 he became CEO of the newly formed parent company, Dell Technologies.
As a student of the University of Texas at Austin, Dell started his PC business (initially called PCs Limited) in 1984 with $1,000 in start-up capital. Continuously 50% of his first year, Dell had sold $80,000 worth of computers.
In 1992 Dell became the youngest CEO in history to have his firm enter Fortune magazine's rundown of the top 500 organizations. In his book Direct from Dell: Strategies That Revolutionized an Industry (1999)
In 2004 Dell ventured down as CEO of the organization, yet he remained executive of the board. He served on the Foundation Board of the World Economic Forum and the executive committee of the International Business Council.
The foundation, which by 2005 had an endowment of more than $1 billion, gave millions of dollars to help survivors of the 2004 tsunami in southern Asia. In 2006 it donated $50 million to the University of Texas at Austin.