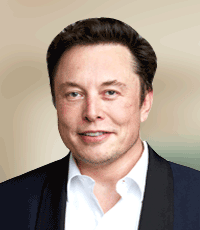 Global Green (2006), National Wildlife Federation (2008), National Space Society (2009), Von Braun Trophy (2009), Heinlein Prize (2011), Gold Medal (2012), Edison Achievement Award (2014), IEEE Honorary Membership (2015), Oslo Business for Peace Award (2017), Royal Society FRS (2018).
Elon Reeve Musk FRS born June 28, 1971 is an engineer, industrial designer, technology entrepreneur and philanthropist.He is the founder, CEO, CTO and chief designer of SpaceX; early investor,CEO and product architect of Tesla, Inc; founder of The Boring Company; co-founder of Neuralink; and co-founder and initial co-chairman of OpenAI. He was elected a Fellow of the Royal Society (FRS) in 2018.
In May 2002, Musk founded SpaceX, an aerospace manufacturer and space transport services company, of which he is CEO and lead designer. He joined Tesla Motors, Inc. (now Tesla, Inc.), an electric vehicle manufacturer, in 2004, the year after it was founded,became its product architect, and became its CEO in October 2008. In 2006, he helped create SolarCity, a solar energy services company.
Elon Musk is Working to Revolutionize transportation both on earth, through electric car maker Tesla and in space via rocket producer spaceX. Elon Musk's rocket company, is now valued at nearly $36billion, currently his net worth is 73.1Billion US$.