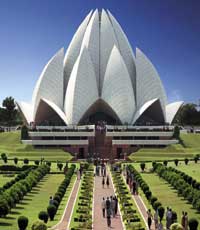 The Lotus Temple is one of the most fabulous structures you have ever seen. It has an exquisite design that looks like a lotus flower. It is situated in Delhi, India and it is a Baha'i House of Worship.
The Lotus Temple has won numerous architectural awards and been featured in hundreds of newspaper and magazine articles. Notable for its flowerlike shape, it serves as the Mother Temple of the Indian subcontinent and has become a prominent attraction in the city.
Lotus Bahai Temple is considered as the Mother Temple of the Indian Continent. The splendid architecture of the temple has been accredited with several architectural awards. Fariborz Sahba is recognized as the architect of this beautiful structure, who is an Iranian.
It is symbolic of the possibility of being spiritual and pure even in this materialistic world. The temple has a very large prayer hall where visitors of all faiths can meditate. The hall has no idols and no rituals and its daily public services include sections from the holy books of all religions.
The top of the structure appears open but actually contains a glass-and-steel roof that admits natural daylight. The overall effect is that of a floating lotus flower a Bahai symbol of purity, beauty, and divinity on the verge of blooming and surrounded by its leaves.
The temple is visited by more than four million people every year with an average of more than 10,000 visitors daily. As per Bahai scripture, the House of Worship cannot have any pictures, statues or images displayed inside.