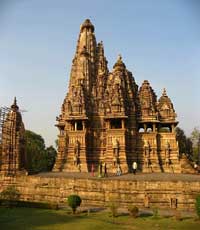 The Name Khajuraho is derived from its Sanskrit nomenclature 'Khatjuravahaka', which is the confluence of two Sanskrit words 'Kharjur' meaning date palm and 'Vahaka' meaning bearer. There are about 25 temples spread over an area of approximately 6 square Km.
The Name Khajuraho, ancient "Khatjuravahaka", in the derived from the Sanskrit word kharjur meaning date palm.
The temples are grouped into three categories depending on their orientation – The Western Group of Temples, The Eastern Group of Temples and the Southern Group of Temples. He Khajuraho temples are famed not only for their beauty of outline but also for the lively texture of their surface decoration.
The Khajuraho temples constructed with spiral super structures, adhere to a northern Indian Shikhara temple style and often to a Panchayatana plan or layout. A few of the temples are dedicated to the Jain pantheon and the rest to Hindu deities to God's Trio, Brahma, Vishnu and Shiva and various devi forms.
Many temples have two or three bands of sculptures running all around the exterior of walls and outside the sanctum. The principal gods and goddesses are portrayed, as also celestial beauties, Mithunas (couples), nagas (serpents), sardulas (leogriffs) and salabhanjikas (woman sporting with trees).