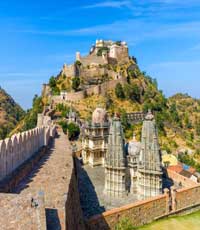 The fort that has made its mark in history as the second largest wall after the Great Wall of China – it is none but the Kumbhalgarh fort in Rajasthan. The mighty fort is 3600 ft tall and 38 km long that surrounds the area of Udaipur. It was considered to have been built by Rana Kumbha in the 15th century.
The fort is a great place to visit. The view is breathtaking from the top. But the biggest trouble is that road to Kumbhalgarh from Udaipur is painful. It is in an extremely pathetic shape.
This fort was built by the most talented architectures of the time and supervised by Mandan who was known for his mastery in the engineering elements. There are 4 main gates in the fort namely Aaret, Hanuman, Hulla and Ram Pol. Then there are multiple sections of the fort like Badal Mahal, Kumbha Mahal etc. The Badal Mahal was the most attractive building build by Rana Fateh Singh which acts as the one of the most hindering forces for the intruders.
The width of wall varies from 15 to 25 feet. It is mentioned in the various books of history that eight horses could run on this wall side-by-side. This wall runs through surrounding mountain cliffs of the Aravali range. The wall is a great example of architecture brilliance of Rajput Era.