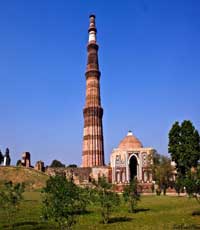 The Qutub Minar is the second tallest and the most attractive historical monument of India located in Delhi at Aurobindo Marg, Mehrauli. This is built in a unique architectural style the red sandstones and marble are used to build it.
It is a great masterpiece of Mughal architecture. The Minar is made of red sandstone. Height of Qutub Minar is 72.5mts. It is an architectural marvel of the 13th century. It was constructed by Qutb-ud-din Aibak in the 12th century for celebrating the victory of Mohammed Ghori over the Rajputs and was completed in the 13th century by his successors. It is one of the best examples of Indo Islamic architecture.
The tower was built to celebrate Muslim dominance in Delhi after the defeat of Delhi last Hindu ruler. This Tower is highest tower in India complete which five storey's and projecting balconies.
Qutub Minar is in a long conical shape. The monument's diameter ranges from 14.3 meters at the base to 2.7 meters at the top. This creates the illusion of increased height. It has 379 round shaped staircases inside it. This stairway leads to a spectacular view of the city from the top of Qutub Minar.