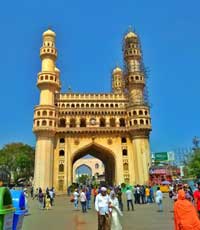 Charminar is a historic monument which is constructed in 1591. Charminar is a monument and as well as it is a mosque that is located in Hyderabad, Telangana, India.
It is also known as the famous place in Hyderabad and it has become a worldwide icon of Hyderabad. It is taken from the two words Char and Minar which means Four Towers in English.
Charminar mainly recognized as the great structure in India. The mosque is located on the top of the floor of the Charminar from 400 years.
Charminar has become a great tourist attraction in Hyderabad as there are many festivals like Ramzan celebrated in this area and there are many surrounding markets placed around the area that has become a great tourist attraction.
Charminar is a historical monument and it is built by the fifth ruler of Qutub Shahi dynasty, Sultan Muhammad Quli Qutub Shah built the Charminar in 1591 after he came to Hyderabad from Golconda. Charminar has four pillars constructed in cardinal directions. Qutub Shah constructed this monument at the exact place where he saw queen Bhagwati, who later became his wife.
Qutub Shah was a poet while constructing the Charminar he prayed many prayers for the safety of the monument. He performed the prayer in Urdu.
Charminar structure is 20 m from each side as 66 feet long covering the four pillars that are facing towards each other. It is very high and has a balcony. Its dome is very high and structured beautifully.