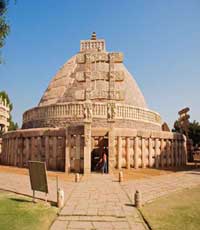 The 'Sanchi Stupa' is located about 46 km away from Bhopal in a small place called Sanchi. Sanchi is a small village in Raisen District of the state of Madhya Pradesh, India. It is a religious place with historical and archaeological significance.
It is the location of several Buddhist monuments. The place is famous for the Stupas (brick mounds) which were built on the top of a hill. The Great Stupa at Sanchi is the oldest stone structure in India.
It was originally commissioned by the emperor Ashoka the Great. At the Sanchi Stupa have the four gateways at the four cardinal points. It is one of the best and finest arts of the Buddhist. It illustrates the Buddhist legends, known as Jatakas and events in Ashoka's life.
It is a most attractive place for the tourist, and hundreds of the visitors are visited here from across of the world. The climate of the stupas always remains hot throughout the year. At the stupa, people can visit here from sunrise to sunset. The winter season is the best season to visit here for more enjoyment, which starts from November to March.