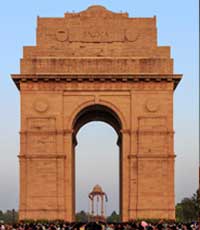 The India Gate is yet another historic and majestic monument in New Delhi. It was built, as a tribute to the Indian soldiers who died in the World War I. The monument is the most respected war memorial in the country and even today, there is a flame under the arch of the monument that continues to burn each day and each night India Gate, an important monument of the city, is a memorial built in commemoration of more than 80,000 Indian soldiers who were killed during World War I.
The monument is an imposing 42 meters high arch and was designed by the popular architect Edwin Lutyens. India gate was before named All India War Memorial.
The design of India gate is almost similar to its French counterpart war memorial, the Arc-de-Triomphe. The building is made of red stone that rises in stages into a huge moulding. On top of the arch, INDIA is written on both sides. Names of over 70,000 Indian soldiers are inscribed on the walls of the monument in whose memory it is built. There is a shallow domed bowl at the top, which was intended to be filled with burning oil at special occasions.
At the base of the India gate there is another memorial, the Amar Jawan Jyoti that was added after independence. This eternal flame was lighted in commemoration of the unknown soldiers who laid their lives to serve this nation.
The lush green lawns, Children Park and the famous boat club around the place make it a perfect picnic spot. Cool evening breeze near the fountains of India gate attract hundreds of visitors daily. In the evenings, India gate is illuminated with number of lights around it that gives it a magnificent appeal.