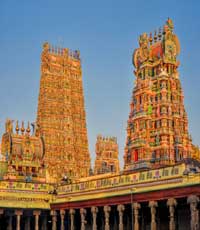 Meenakshi Amman Temple, also known as Minakshi-Sundareswara Temple, is one of the oldest and most important temples in India. Located in the city of Madurai, the temple has a great mythological and historical significance.
This temple is the heart and lifeline of 2500 year old city of Madurai and also one of the main attractions of Tamil Nadu.
Renowned for its astonishing architecture, Meenakshi Temple was nominated as one of the wonders of the world, but couldn't make it into the list of the 'Seven Wonders of the World'. However, the temple is definitely one of the 'Wonders of India'.
Meenakshi temple is one of the most the famous temples of South India. It is built in the Dravidian style. The temple houses the wife of Lord Shiva, Meenakshi (fish-eyed). The temple is a double shrine, one dedicated to Meenakshi and the other to her consort, built inside a larger shrine.
It is the 'wonder of the place', Actually the number of pillars count to 985. Each pillar is sculptured and is a monument of the Dravidian sculpture. There is a Temple Art Museum in this 1000 pillars hall where you can see icons, photographs, drawings, etc., exhibiting the 1200 years old history. There are so many other smaller and bigger mandapams in the temple. Just outside this mandapam, towards the west, are the Musical Pillars. Each pillar when stuck, Produces a different musical notes.